About my Book,  The Origins of Beowulf and the pre-Viking Kingdom of East Anglia.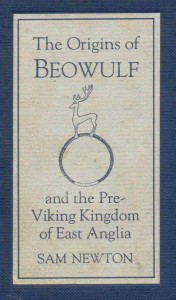 In 1993 I published my first book, The Origins of Beowulf and the pre-Viking Kingdom of East Anglia, now in its fourth print run. It is about the epic poem Beowulf, which is widely regarded as the first great work of English literature. Its primary purpose is to address the questions of when and where in England Beowulf was composed. I conclude that there are significant indications that it might have been in the Wuffing kingdom of East Anglia during the eighth century Click here to order a copy, or read some of the reviews first.. This is what my publishers, Boydell & Brewer, have said about the book (the reviews' section follows): "Where did Beowulf, that unique and thrilling example of an Old English epic poem come from? In whose hall did the poem's maker first tell the tale? The poem exists now in just one manuscript, but careful study of the literary and historical associations reveals striking details which lead Dr Newton to claim, as he pieces together the various clues, a specific origin for the poem. Dr Newton suggests that references in Beowulf to the heroes whose names are listed in Anglo-Saxon royal genealogies indicate that such Northern dynastic concerns are most likely to have been fostered in the kingdom of East Anglia. He supports his thesis with evidence drawn from East Anglian archaeology, hagiography and folklore, bringing life to a vanished age with his sympathetic interpretation of the few records that have survived. His argument, detailed and passionate, offers the exciting possibility that he has discovered the lost origins of the poem in the pre-Viking kingdom of eighth-century East Anglia." Scholarly Reviews which the book has received:
Tom Shippey, The Times Literary Supplement, 18th June 1993, p.32.
Andrew Orchard, Suffolk Institute of Archaeology & History Newsletter, 37 [Autumn 1993], p.11.
Rupert Bruce-Mitford, The Antiquaries' Journal, [1993], pp.210-211.
John Hines, Anglia, 113.1 [1995], pp.95-97.
Peter J.Lucas, Review of English Studies, ns.46, no.184 [1995], pp.545-547.
Patrick Wormald, Notes & Queries, 240 [1995], pp.386-387.
R.F.Yeager, Medium Ævum, 64.1 [1995], pp.121-122.
Eric Christiansen, English Historical Review, [1996], pp.140-141.
Thomas D.Hill, Speculum, 4 [1997], pp.541-543.
J.S.Ryan, Parergon, 14, 2 [1997], pp.223-224.
M.J.Franklin, Southern History, 16 [1994], p. .
R.P.Tripp, Jr, Modern Language Review, 90.1 [1995], pp.132-134.
R.M.Liuzza, Albion, 28 [1996], pp.73-74.
Press reports: Cathy Brown, "Deben boyhood leads to link between epic poem Beowulf and Sutton Hoo", The East Anglian Daily Times [Supplement], Sat. 3rd April 1993, p.8; David Keys, "'Beowulf' belongs to England after all", The Independent, Tues. 7th Dec. 1993, p.36.
How to order a copy of my book:
 available in paperback (illustrated with line drawings and maps, 192 pages, 231 x 156 mm., ISBN 0 85991 472 0);
or in hardback (illustrated with line drawings and maps, 192 pages, 240 x 160 mm., ISBN 0 85991 361 9).
Order direct from my publishers: Boydell & Brewer Ltd., PO Box 9, Woodbridge, Suffolk IP12 3DF, England, Website http://www.boydell.co.uk/ ] Tel: +44 (0) 1394 610 600 Fax: +44 (0) 1394 610 316.